THE FIRST FILLETS
Background
Originally released in 1998, in the Czech republic, in both Czech and English versions. In 2002 Fish Fillets was released as an open source under GNU/GPL license. In 2004 fans created a new version based on the original Fish Fillets, ported to several operation systems (such as Linux, MacOS X, Windows and much more) and translated into different languages including; French, Italian, German, Dutch, Polish and Spanish.
Story
Once upon a time there were two fish. They worked for a fishstitution so secret that even they didn't know its name.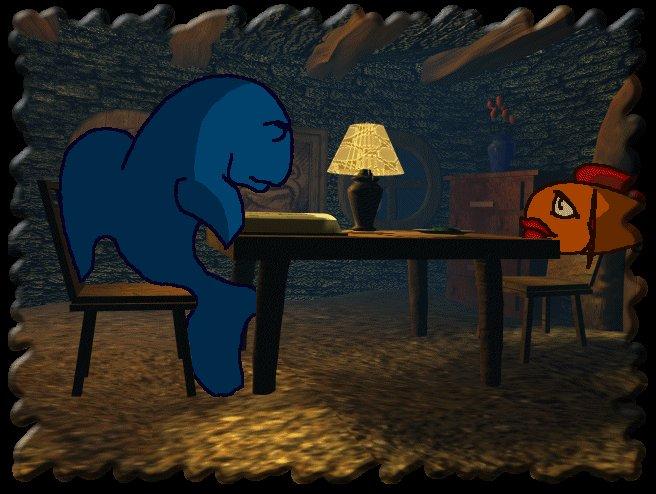 It investigated UFOs (Unidentified Floating Objects), searched through wrecks of land-based vessels known as "floating saucers" and carried out DIVER (Deeply Interesting and Very Expensive Research). One day, one particularly nasty UFO invaded the underwater realm, wreaking havoc as it zigzagged along the ocean floor. It struck the little house of the two fish and destroyed it beyond recognition. As our heroes set out on their quest to restore the peace, they learned that the Agency has put them in charge of eight different missions. Only when they complete them all do they have a chance to get back home. Their only consolation is the Agency's motto: The solution is out there…
Graphic
All graphics in Fish Fillets are hand made. There is at least one fully animated object in every level – dancing crabs, an octopus playing the piano, and many others.
Links
Fish fillets: New Generation – New version of Fish Fillets for Windows, Linux, MacOS X and much more.
Fish fillets – Download original version of game from FilePlanet.com
Fish Fillets Walkthrough – Walkthrough from Gamfaqs.com

Fan pages:
Ondrech Fan page (only in Czech Language)
Gallery